Elevating

 our ability to attract, recruit, hire and onboard UC Davis employees for the future
The Hiring Experience is a two-year effort to accelerate successful hiring and improve employee retention at UC Davis Health. This multi-pronged initiative includes partners in UC Davis HR, Health IT, Operational Excellence, Experience Design — and eventually all hiring managers. With improvements starting now, the plan calls for addressing all steps in the hiring process, from opening a job through onboarding.
With streamlined processes, better data, smarter tools and training, we're turning the hiring process into a welcome and rewarding experience for all involved.
While the initial work is occurring at UC Davis Health, these improvements will be coming to the Davis campus in the near future, after ample notice and feedback from stakeholders.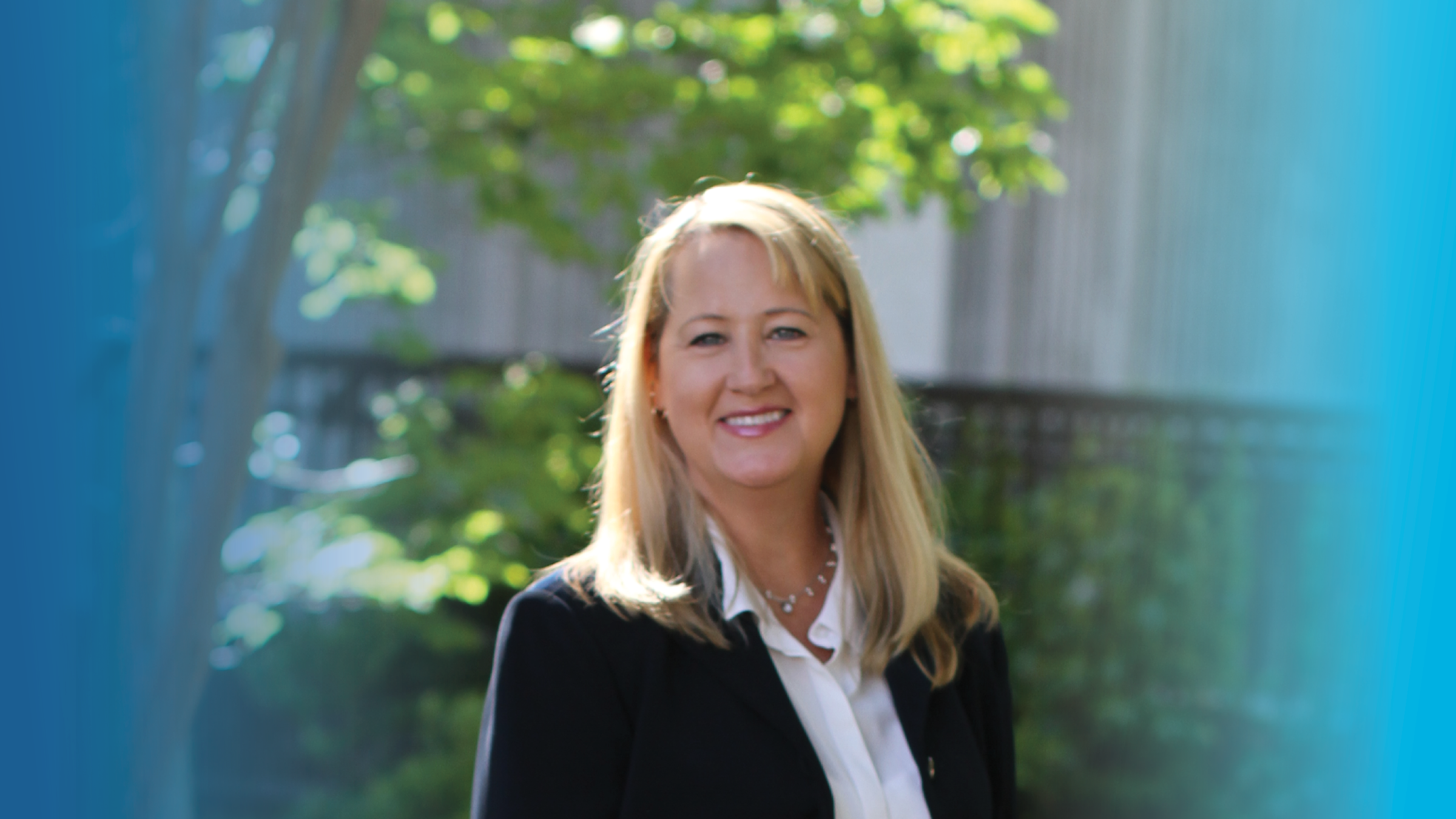 We've Heard You!
This work is critical in providing tomorrow's health care today. 
---
How We're Elevating Hiring for Lasting Starts
In 2023, UC Davis Health grew its workforce by more than 10%, which is tremendous growth during a time of enormous challenges. 
Initial analysis of our full recruitment cycle— which included feedback from UC Davis employees, recruiters and recruiting departments— uncovered many opportunities for improvements. Here's how The Hiring Experience plans to address them:
Current Challenges
Overarching Goal and Outcomes  
Candidates do not know who to go to for questions or help​
Responses to candidate questions are not consistent​
It takes too long to get equipment  

Enhanced Candidate Experience

More guidance and engagement through better communication​
Real-time status updates​
Improved onboarding and accelerated productivity

The process to hire one new employee currently requires:

Action from 19 individuals across HR teams​
16 different systems are part of the hiring process

Improved Processes and Tools

Streamlined end-to-end hiring process​
Standardized job descriptions​
Enhanced job description management and applicant tracking capabilities

54 steps conducted over email​
16 approvals per candidate​​
91 manual steps per candidate

Better Experience for Hiring Manager and the HR Team 

Reduced manual interventions and rework​
Greater visibility into the candidate lifecycle and onboarding activities​
More reliable data and reporting capabilities​
Clear communication around best practices and actions needed
Measurements of Success
Reduce time to hire by 10% by end of FY 2024

Establish continuous improvement business processes and data tracking
It's easy to identify the problem — too many systems, steps and hands involved — but we've never coalesced around the solutions. We're seeking commitments on the future state because it's going to take all of us to make it a reality." 
– Jim Hankins, Executive Director for the Shared Services Organization
Timeline
Updated 11/03/2023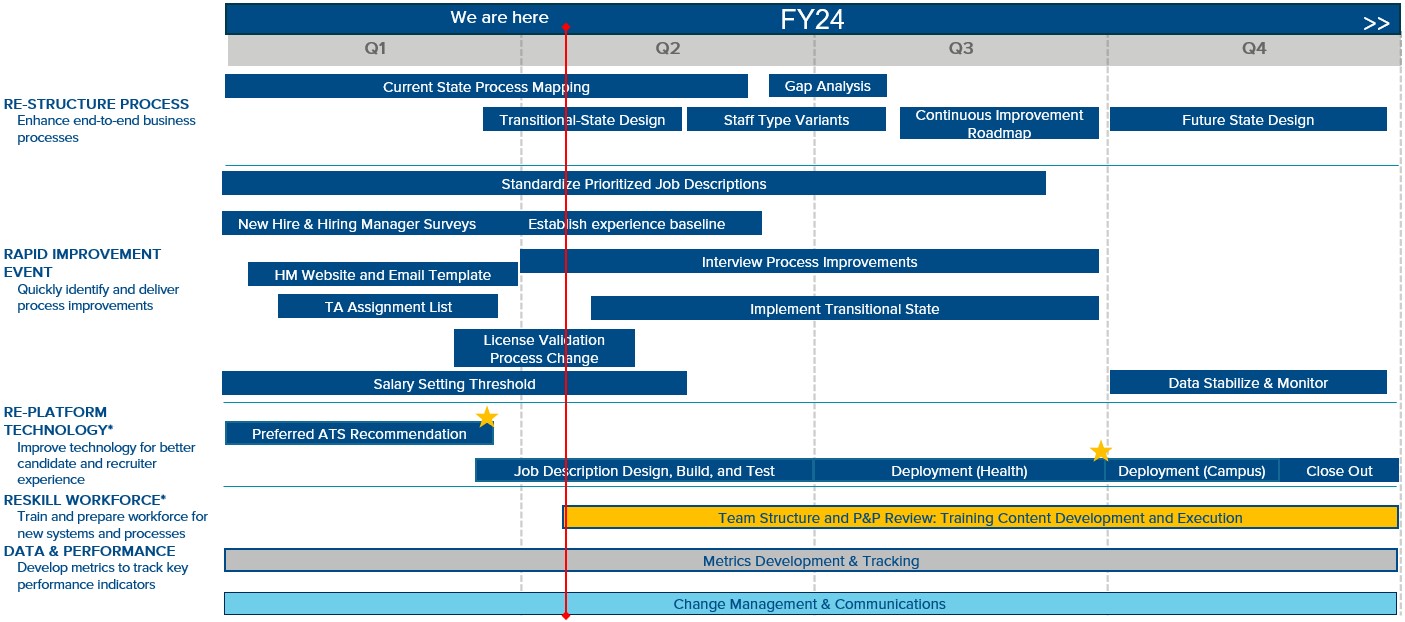 ---
The Hiring Experience will address a variety of policies, procedures, technologies and employee training. The first of our improvement efforts are already rolling out. You can track progress using the scorecard below, which will be updated weekly. 
The Hiring Experience Scorecard (Updated 11/07/23)

A few key updates include:

Info sharing sessions with UC David Health leadership and teams are in progress. The Hiring Experience team presented at the Medical Center Management Forum (9/25), the HR Managers Meeting (10/12), the HR All Staff Meeting (10/23); and upcoming sessions include the Ambulatory Care Work Group (11/2), the UC Path Advisory Board (11/2), the Quarterly SSO Governance Meeting (11/6), the FOA Council (11/16), the Vice Chair Research (VCR) Meeting (11/16), the Administrative Management Meeting (ADMAN) (11/16) and the HR Advisory Council (HRAC) (11/30). We also initiated The Hiring Experience awareness communications to UC Davis HR Advisory Campus stakeholders (10/25).  

The THX Campus Advisory Committee was established to provide guidance and input that ensures campus interests are considered and that we're realizing a customer-focused approach to full-cycle recruitment improvements. The first meeting is scheduled for November 8, 2023. 

Several rapid improvement projects to improve the end-to-end hiring process are in progress. 

Interview process improvements are being identified.  

Job description standardization work focused on defining minimum qualifications for the top 10 job descriptions at UC Davis Health. Custodian, Ambulatory MOSC 2, MOSC 3, MOSC 3 Lead job descriptions are being reviewed and finalized. CN2/CN3 job descriptions are being drafted.  

Talent Acquisition Improvements (See All) 

Vacancy Approval Process  

Department Assignments Search Tool- UC Davis Health 

Website Improvements and Email Templates 

Job description management implementation has started with UCOP and our Campus and Health partners which will facilitate workflow improvements and foster job description standardization across UC Davis; working sessions begin Oct. 10 and a Campus Advisory Committee will commence in late October.  

Job Request Management will be managed by JDXpert, rather than AggieService, for Health. Campus will continue to use AggieService. 

For clarity and consistency, HR will adopt the terms "Job Description" and "JD" in favor of "Position Description" and "PD". These changes will be reflected in future communications, policies, procedures and in the software. 

Current state and future state process mapping for identified staff types is in progress, building upon the work done last year and recently in May 2023. 

Given that an application tracking system will not be fully implemented until FY 2024-2025, HR, IT and hiring manager leaders aligned on a transitional state process flow which included 29 proposed process changes and developed service level agreements and turnaround times for key handoffs. The process team will be implementing many of those changes in the next several months to achieve improvements in candidate and hiring manager experiences and reduce time-to-hire. 

The job description system implementation of the JDXpert application is underway with UCOP. The build and configuration team, comprised of campus and Health Compensation and HR application support resources, is in the middle of a 12-week development phase for JDXpert with an emphasis on standardization.

---

We look forward to providing future updates and announcements as we make progress in decreasing Time-to-Hire and improving the Candidate and Hiring Manager experiences.

Scorecard Archive
---
The Hiring Experience Supports the UC Davis Health Clinical Strategic Plan
UC Davis Health's vision is to "Deliver tomorrow's health care today — the next generation, the next innovation, the next cure." To do that, UC Davis Health needs to educate and prepare a future-ready workforce and drive excellence in all we do. 
The Hiring Experience will make significant contributions to this mission and vision, specifically when it comes to operational excellence and business process innovation. We're using customer feedback to realize solutions that better serve current and future employees and the people who hire them. 
Clinical Strategic Plan
Transformation Catalysts
| Investing in the Future of Medicine | "Digital Davis" (Digital Health, Telehealth, IT & Analytics Infrastructure) | Integrated Research and Innovation | Operational Excellence/ Business Process Innovation |
| --- | --- | --- | --- |
| Creates funding opportunities to support our innovators to design and test new models of care delivery, diagnosis, and treatment. | Expands our ability to connect with patients wherever they are, conveniently and efficiently provide care, and ensure the best data and analytics inform every care decision.  | Links our world-class research directly to our clinical programs and provides unparalleled access to clinical trials for our patients and partners, ensuring discoveries are rapidly translated from bench to bedside. | Drives efficiency, access, and throughput while alleviating capacity constraints to allow us to always deliver exceptional, efficient care. |
---
Get Involved
The key stakeholders in this effort include UC Davis HR and UC Davis Health IT, Operational Excellence and Experience Design, but we're always looking for more partners and good ideas to improve things.
Email hr@ucdavis.edu with any questions and find out how you can get involved.
---
FAQ
Coming soon