The UC Core Competency Model helps build a foundation for the culture we want at UC.
The UC Core Competencies were chosen to provide a shared set of behaviors and language that reflect UC's vision and values.

The eLearning, books and on-the-job resources below are designed to help you exceed expectations in your role.
---
Learning Resources
Achieving Results Learning
1. Continuous Improvement Competency
Strives for high-quality performance in self and the organization. Takes initiative in an ongoing effort to improve products, services or processes to deliver optimum results. Is resourceful, seeks alternatives and broad input; measures outcomes.
---
2. Continuous Learning Competency
Demonstrates responsibility and ownership for one's job and career path by identifying and expanding skillsets needed to perform successfully on the job. Consistently works to learn and increase knowledge. Asks for help when needed, admits mistakes and is open to feedback.
---
3. Problem Solving Competency
Anticipates and identifies problems; conducts appropriate analysis to understand stakeholder interests. Generates and evaluates alternative solutions. Takes thoughtful risks.
---
4. Service Focus Competency
Values and delivers high quality, professional, responsive and innovative service to all customers. Establishes and maintains positive, long-term working relationships.
---
Building Relationships Learning
5. Belonging and Community Competency
Models, fosters, and promotes the University of California Principles of Community. Demonstrates empathy and respect for all people regardless of differences; promotes fairness and equity. Cultivates, champions, embodies, embraces, and supports a sense of diversity, equity, inclusion and belonging.
---
6. Collaboration Competency
Interacts with others in ways that demonstrate collaboration and cooperation. Builds partnerships with others to achieve organizational results. Cultivates, builds and maintains positive relationships across the organization.
---
7. Communication Competency
Clearly and effectively shares information both orally and in writing. Uses the most appropriate and effective medium for communicating. Adapts and adjusts messages in line with audience experience, diversity and background. Seeks input and actively listens; checks for understanding of messages.
---
Creating the Future Learning
8. Change Agility Competency
Anticipates and adapts to change. Supports change initiatives by energizing others at all levels and ensuring continued commitment when faced with new initiatives. Demonstrates tolerance and adaptability when dealing with ambiguous situations. Effectively plans for change and deals with setbacks through flexibility and resilience.
---
9. Mission and Vision Focus
Shows understanding of and commitment to the UC mission and vision.
---
10. Stewardship Competency
Demonstrates accountability, discretion and sound judgment when utilizing tangible and intangible University resources to ensure the public trust.
---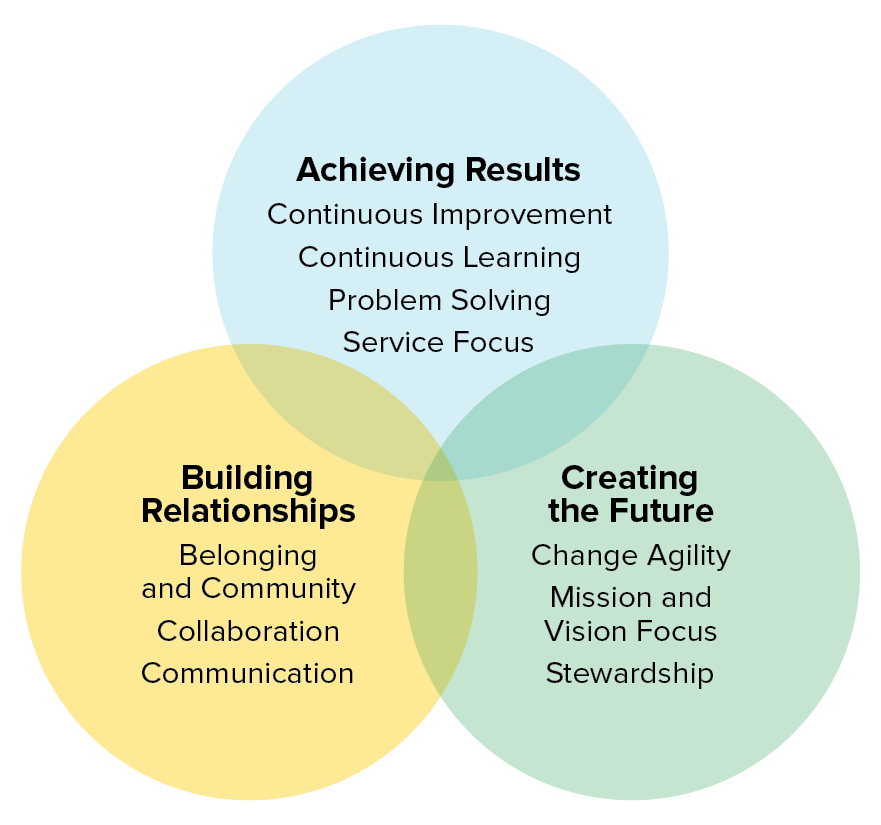 Core Competency Model
Learn more about the 2020 UC Core Competency Model that was endorsed by the Human Resources Leadership Consortium (HRLC).