Explore the expanded Skillsoft eLearning library in the UC Learning Center
Learning and Development is excited to announce a robust update to our Skillsoft eLearning library in the UC Learning Center (LMS), available to all UC Davis and UC Davis Health employees.
Skillsoft's comprehensive eLearning library is a self-led, self-paced experience and includes a variety of new and improved eLearning content:
eCourses
eBooks
Audiobooks
Bundles (learning paths on specific topics)
Practice labs
Benchmark assessments
Learning content spans key topics such as communication, customer services, leadership, technology, etc.
Explore how the Skillsoft eLearning library in the UCLC can support your learning goals in the new year! Click below to visit our eLearning Library webpage that includes a how-to video and links directly to bundles on popular learning topics.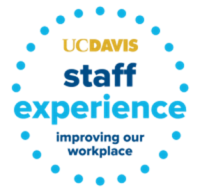 In the 2022 Staff Experience Survey we heard from Campus employees seeking more learning opportunities and professional development. We heard how securing release time for instructor-led trainings and general workload can pose challenges, and hope this just-in-time, self-paced resource increases access to learning experiences.
Primary Category