Donate to Staff Emergency Fund
UC Davis and UC Davis Health take exceptional care of staff, which makes working here very special.
The UC Davis and UC Davis Health Staff Emergency Funds aid staff members in times of personal hardship with grants of up to $1,000 and the funds have been a source of financial help and hope to 315 staff across UC Davis so far.
While the Davis campus fund still has a small balance, we recently exhausted the Staff Emergency Fund at UC Davis Health because so many of our staff colleagues are experiencing financial hardship right now.
Make a Donation Apply for Funding
---
A Gift of Any Size Will Make a Difference 
Staff know the university community cares about them and values their work, and that's why so many staff go above and beyond just doing their jobs. Your contribution will help staff overcome unexpected financial hardships, like we did for the following staff:
Both my parents contracted COVID-19 and I had to help with their meals, medications, transportation and other essentials to help get them through the illness. With this financial burden, I fell behind on my utility bills. Thankfully, the Staff Emergency Fund was able to provide a $1,000 grant to help me get back on my feet and catch up on my bills. 
When my mom passed away suddenly, I was without childcare for my children and had to take time off work to care for my kids. I was also responsible for covering all the financial costs of the service and memorial arrangements. This was both financially and emotionally devastating. The grant from Staff Emergency Fund helped me get through this difficult time.  
My husband lost his job due to COVID-19 and once his unemployment ended, we had difficulty paying our full rent payments. Our utilities and food costs had increased because our children were home distance learning, and the Staff Emergency Fund was able to provide $1,000 to help us catch up on our rent.
---
Since the start of the pandemic, we have awarded almost $300,000 to staff, which wouldn't be possible without your generosity.
While the worst of the pandemic seems to be in the rearview mirror, giving remains so important to staff experiencing crisis. Crowdfund helps support programs and services that strengthen the UC Davis community and our impact on the world. 
Donate to the Staff Emergency Fund
---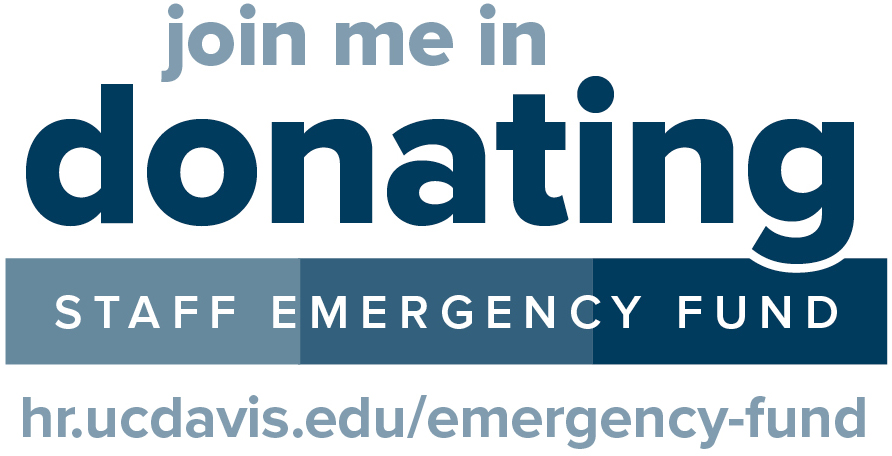 Help Spread the Word
Encourage someone else to donate to the Staff Emergency Fund by using these Zoom backgrounds, email signature lines and newsletter blocks. Thanks in advance!
>>  Read More